When we started back in September - that isn't that long back - we - Me, Shilpa &Vidya (the brilliant lady behind our new poster!) the ONLY 3 members of IMQG, had hoped of reaching a milestone of 100 members in one year!
Diwali 2012 was my personal target for 100 members.
But today, even before we have seen the end of March 2012, we are nearing that target!
How does it feel?
Awesome.
Proud.
Happy.
Delighted.
Crazy.
and a lot more that words cannot express.
So we're going to celebrate our century (our first one, as much awaited by all our members as much we awaited Sachin's 100th) with a giveaway.
Right now, I mean at the moment I'm typing this, we are at 93 members.
I will unveil the 5 prizes that you can win one at a time, every time a new member is added after 95. (The first one will be unveiled when we have added our 96th member). And exactly 2 days after we add our 100th member, we will draw the winners.
Each image will be replaced by info and image of the prize IN THIS POST.
#One
Revealed March 26
Fox Trails Charm Pack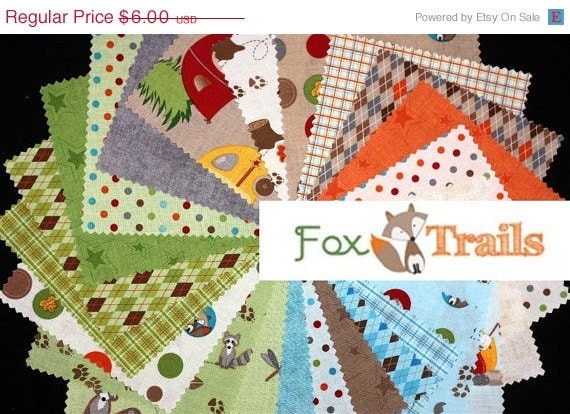 A beautiful and fun fabric with prints that you'll adore... Includes 25 5" squares!
#Two
Revealed March 28
An Olfa Rotary Cutter (45 mm) along with 2 spare blades.
Yup! You'll get that cute case to keep your blade safe too!
#Three
Revealed March 28
One Yard of Weekends Go By Bike in Gray by Erin McMorris!
You'll be getting one yard of this fabulous fabric!
#Four
A pair of birds on a swing made by me
And the bumper grand prize
#Five
A custom designed wall quilt just for you by me!
You tell me what your likes are and I'll work around them to make a custom quilt for you!
How do you enter?
Try to guess the prizes. Make your wildest guesses. Leave a comment here.
10 guesses per person.
You HAVE to be a member of the IMQG to be eligible.
ONE person for each prize will be chosen by random draw from amongst the CORRECT ANSWERS.
Each person wins ONLY ONE PRIZE.
If the same name is drawn again, I'll skip it an choose another one. That will be fair to everyone.
Start entering your guesses, right away!
Cheers!!!